Former Bentley Channel Partner Serving Clients in the United States and Canada

Still Running DOS Command Lines and Multiple Programs in your office?
Perhaps you need MAXSURF.  Read this and learn why.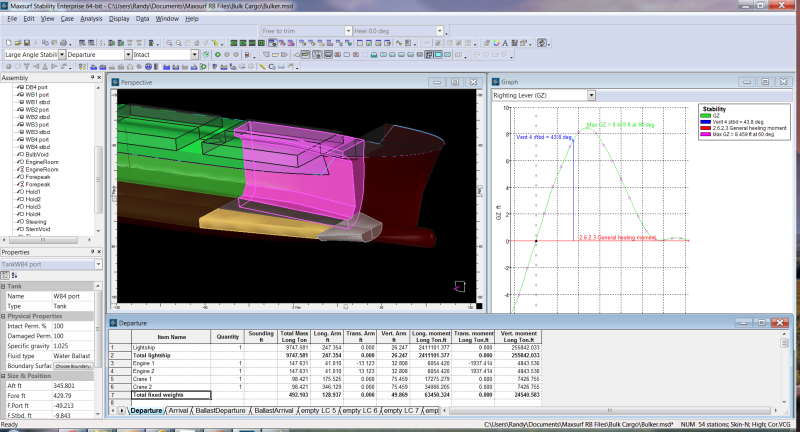 ---
Bentley Systems MAXSURF – A Proven Suite of Integrated Design and Analysis Tools for Naval Architects
MAXSURF is the most comprehensive suite of Naval Architecture software tools available today for designing any type of marine vessel.  The software (originally developed by Formsys in Australia, and later acquired by Bentley Systems) has been widely used for more than 30 years on thousands of commercial vessels, military ships, boats, and both power and sailing yachts worldwide.  It has been used to develop the largest and fastest High-Speed Aluminum Catamarans in the world (exceeding 40 knots).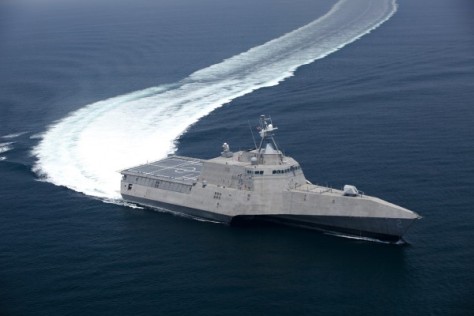 MAXSURF has been a key teaching tool for Naval Architecture curriculums at most if not all of the leading colleges around the world including MIT, Webb Institute, U.S. Naval Academy, U.S. Coast Guard Academy, University of Michigan, New York Maritime College, University of New Orleans, Southhampton, Newcastle, and the Memorial University of Newfoundland.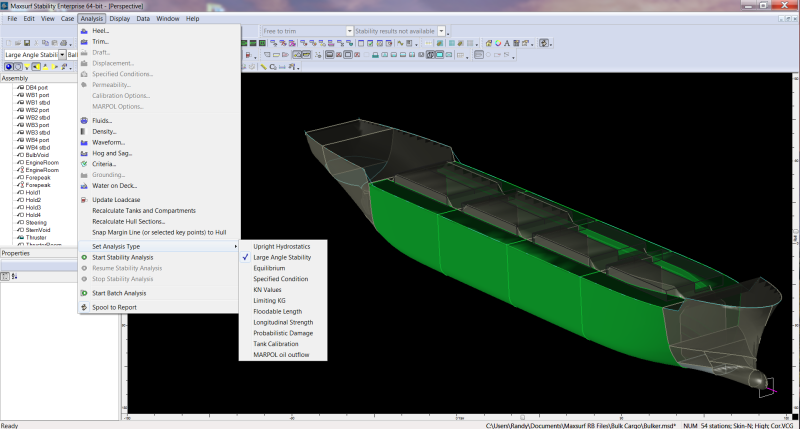 Just a few examples of the 1000+ MAXSURF users include:
Military:  U.S. Navy and Coast Guard, Australian Navy, Austal, General Dynamics, BAE Systems, Thales, U.S. Naval Research Lab
Design Firms:  Robert Allan, Ltd, Capilano Maritime Design Ltd, Allswater, Technology Associates, BMT Nigel Gee
Shipyards:  Kawaski, IHI, Sumitomo, Nissan, Damen, Mitsubishi Heavy Industries, Seaspan, Swift Ships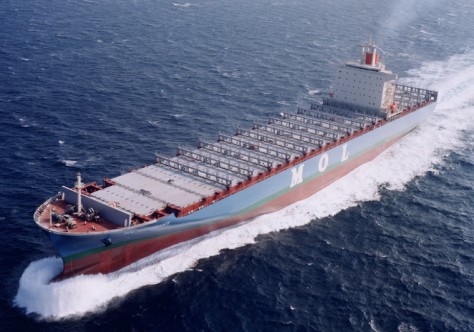 Workboats & High Speed Ferries:  Austal, Damen, Swiftships, Chesapeake Shipbuilding, Blount Boats, Incat Crowther, Armstrong Marine.
Vessel Owners:  Norfolk Dredging, Exxon Mobil, BBC Chartering.
Yacht Designers:   Owen Clarke Design, German Frers, Shuttleworth Design, Ferretti, Benetti Azimut, Nautor Swan, Ron Holland Design, Mulder Design, Kasten Marine Design, Warwick Yacht Design, and Dibley Marine.
---
From the Conceptual Stage – Optimize Vessels Earlier in the Design Cycle When the Cost of Change is Lowest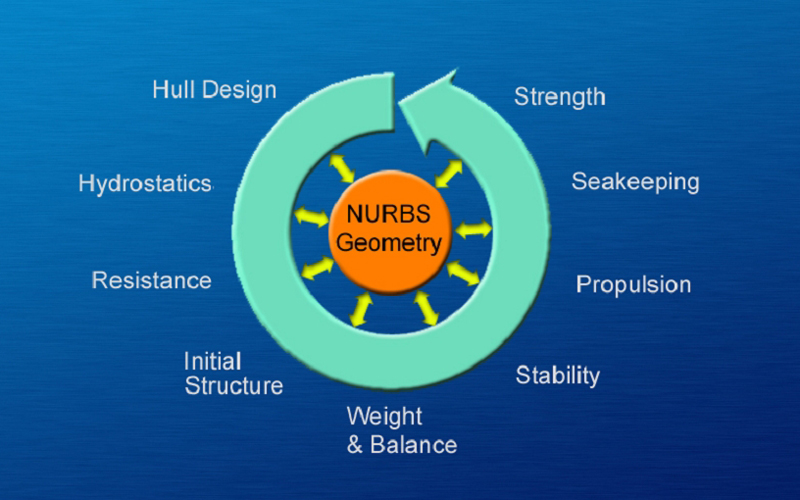 MAXSURF provides Naval Architects with powerful integrated tools for Hull Modeling, Stability Analysis, Resistance and Powering, Motions, Primary Hull Structure Definition, and Finite Element Analysis of Hull Structure:
Hull Modeling:  Uses the latest 3D NURB Surface modeling technology for the creation and fairing of complex hull shapes.  Includes many powerful capabilities such as dynamic trimming, parametric transformation, proportional model resizing, and compatibility with other CAD and Naval Architecture software platforms such as Autocad, Microstation, Rhino, GHS and SHCP.  In particular, Maxsurf imports and exports native Rhino files and the Maxsurf Assembly tree is imported into Rhino making model editing very robust.  For example, users may perform all hull modeling in Maxsurf and import the geometry into Rhino for adding items like superstructure, equipment, and other details which are not required for stability analysis and performance prediction.
MAXSURF Modeler is fun to use, and easy to learn with a straight forward and intuitive user interface without the need to remember commands.  Be sure to learn more on our MAXSURF Modeler web page where you will also find a link to view a demonstration of several capabilities.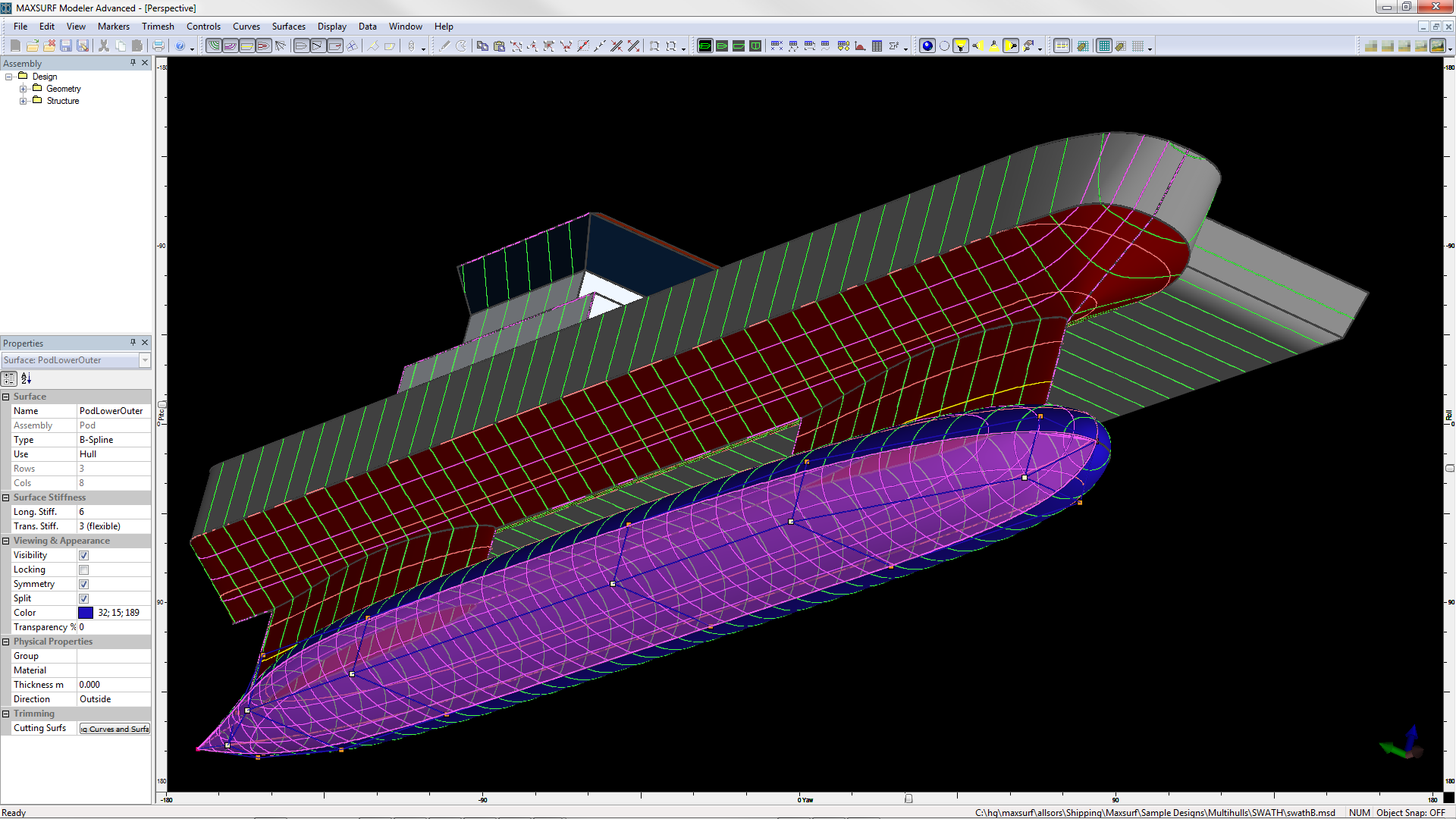 Hydrostatics and Stability:  Utilizes the 3D surface hull model to analyze Stability (intact, damaged, and probabilistic damage), Large Angle, Longitudinal Strength, Floodable Length, Downflooding Points, and verification with built-in comprehensive libraries of Stability Criteria from all major regulatory bodies such as USCG, ABS, IMO, etc.  More details can be found along with a links several demos on our MAXSURF Stability web page.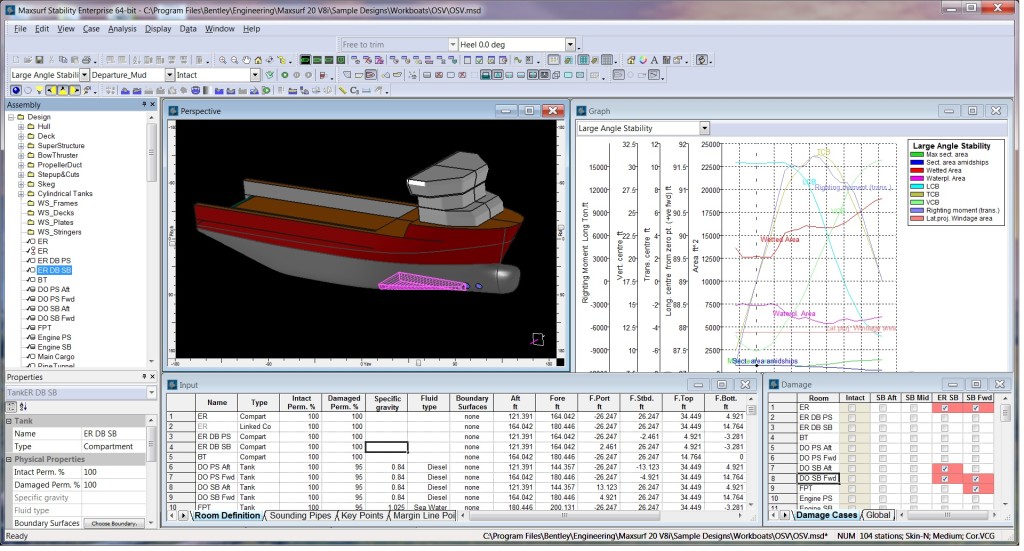 Hydrodynamics (Resistance and Motions):  Utilizes the 3D surface hull model to calculate Resistance, Power, Ship Motions, Seakeeping, and Wave Pattern prediction for planing, displacement, and sailing vessels.  Also includes Vessel Performance Prediction (VPP) for sailing vessels, producing performance polar curves for speed prediction in a variety of sailing conditions.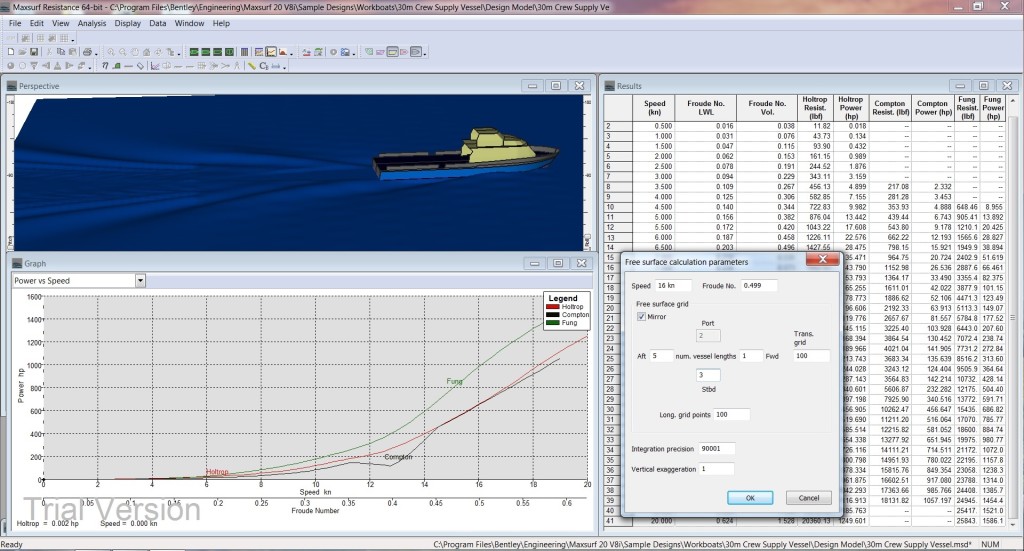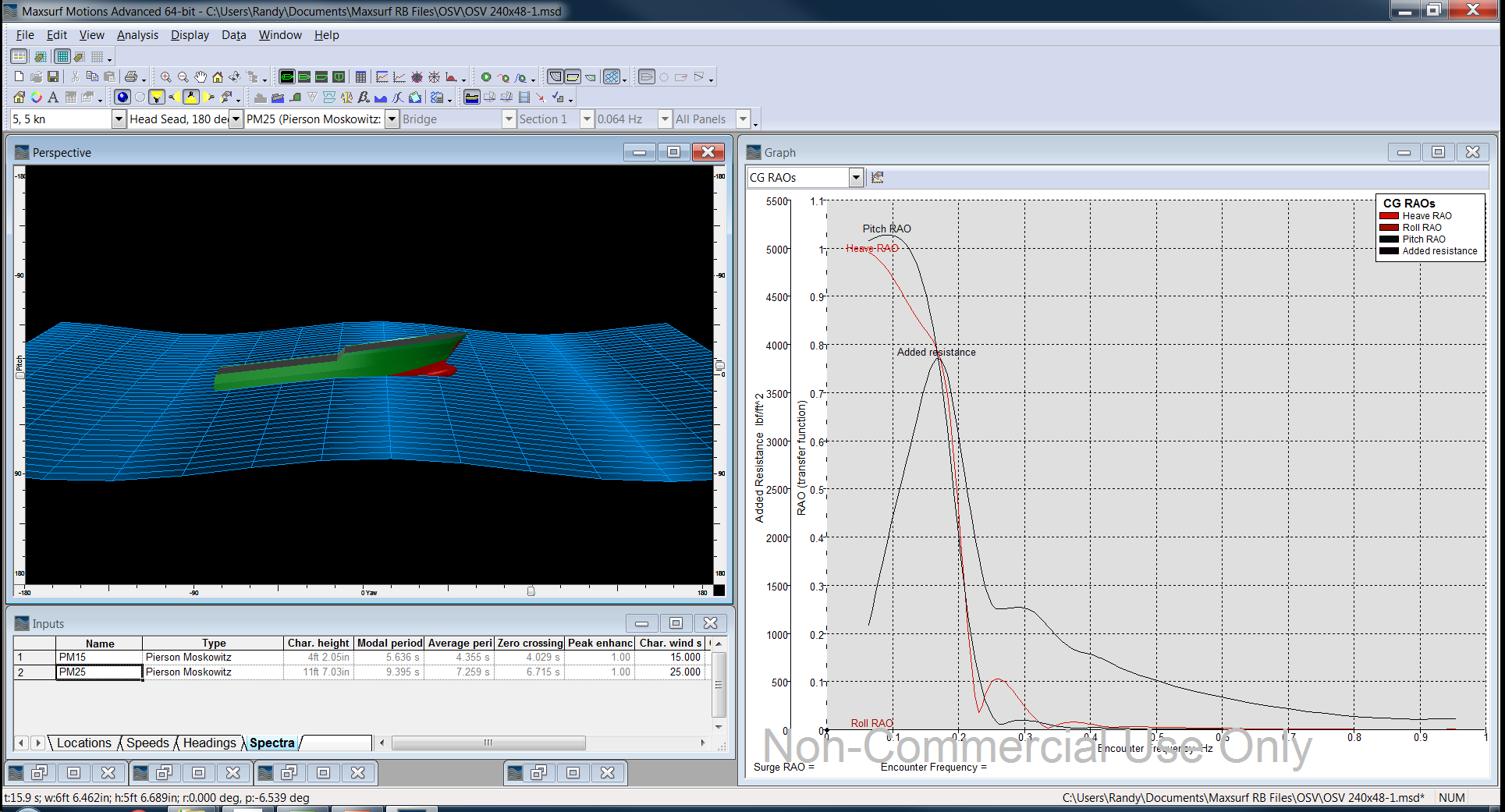 Structure (Design and Plate Development

)

:  Hull Structure Parametric Parts Definition (Shapes and Plates), Plate Part Development (developable and doubly curved plate), Detailed Weight Estimates, Stringer and Longitudinal Stiffener Layouts.  These capabilities empower the Naval Architect to optimize the structural design and produce more accurate and useful data earlier in the design cycle before detailed production engineering starts downstream with tools such as ShipConstructor.  

Changes to the hull model geometry can automatically update the detailed structural parts with the click of your mouse.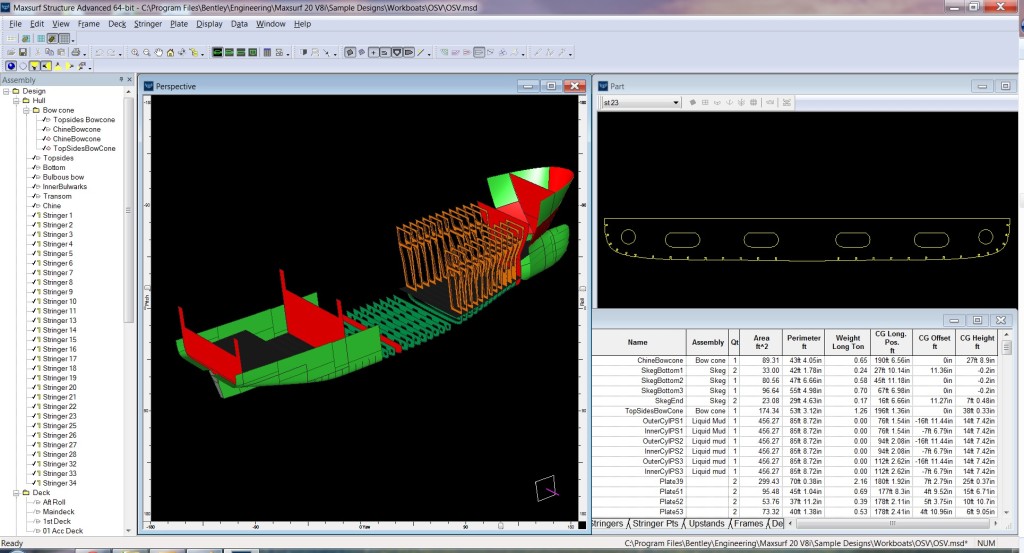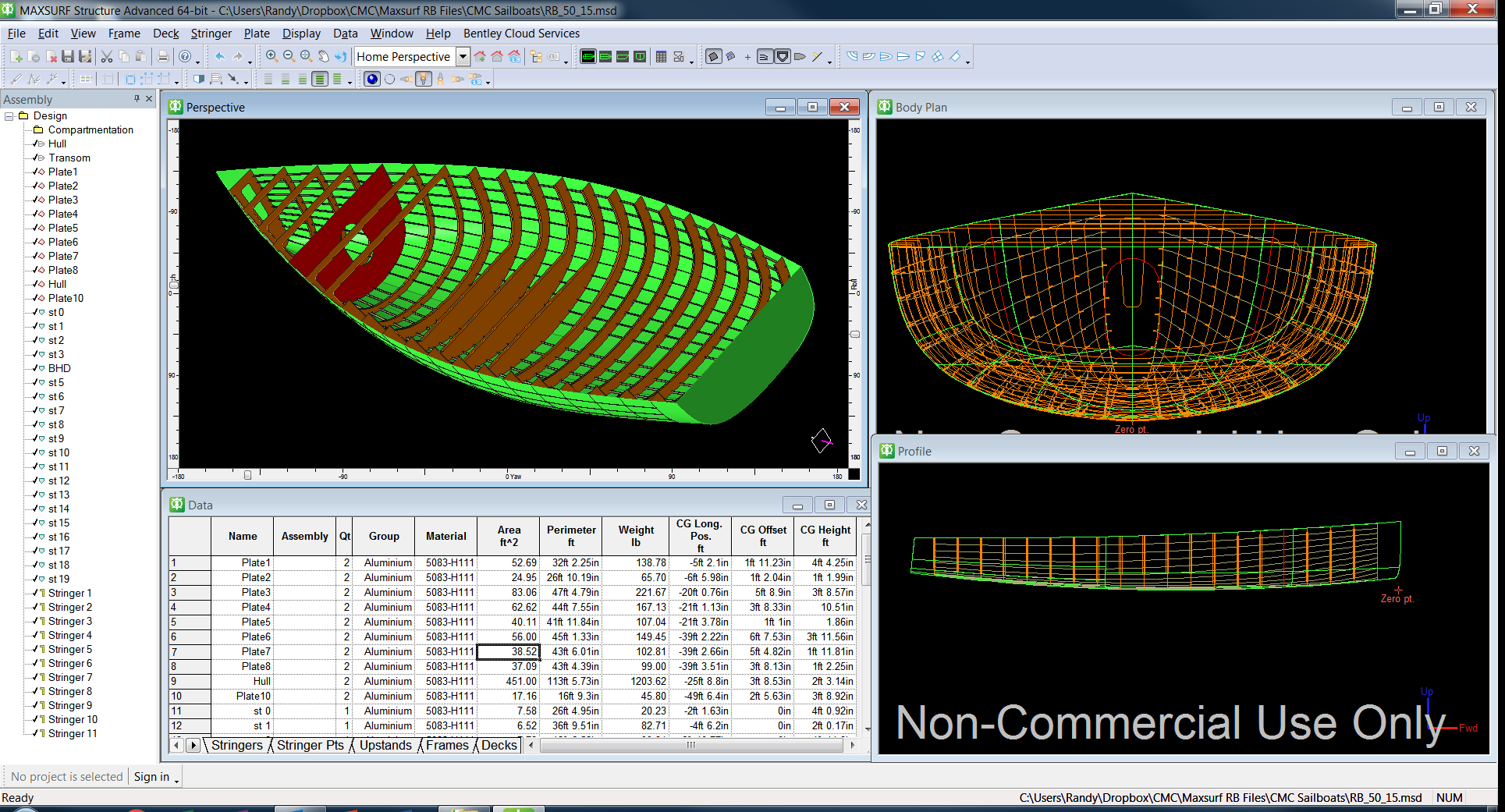 Structural Analysis and Design with Maxsurf Multiframe:  Uses Finite Element Analysis (FEA) to analyze vessel beam and plate structure with applied loads, self weight, buoyancy, inertial, and hydrodynamic loads.  Capabilities include static, dynamic, and modal analysis.
Click This Link to view a 15 Minute Maxsurf Overview Presentation by Charleston Marine Consulting (Includes Software Demonstration)
The MAXSURF software platform operates from a single parametric 3D model that enables faster completion of multiple types of analyses and trade-off studies as the design spiral progresses and changes are made to original concept design.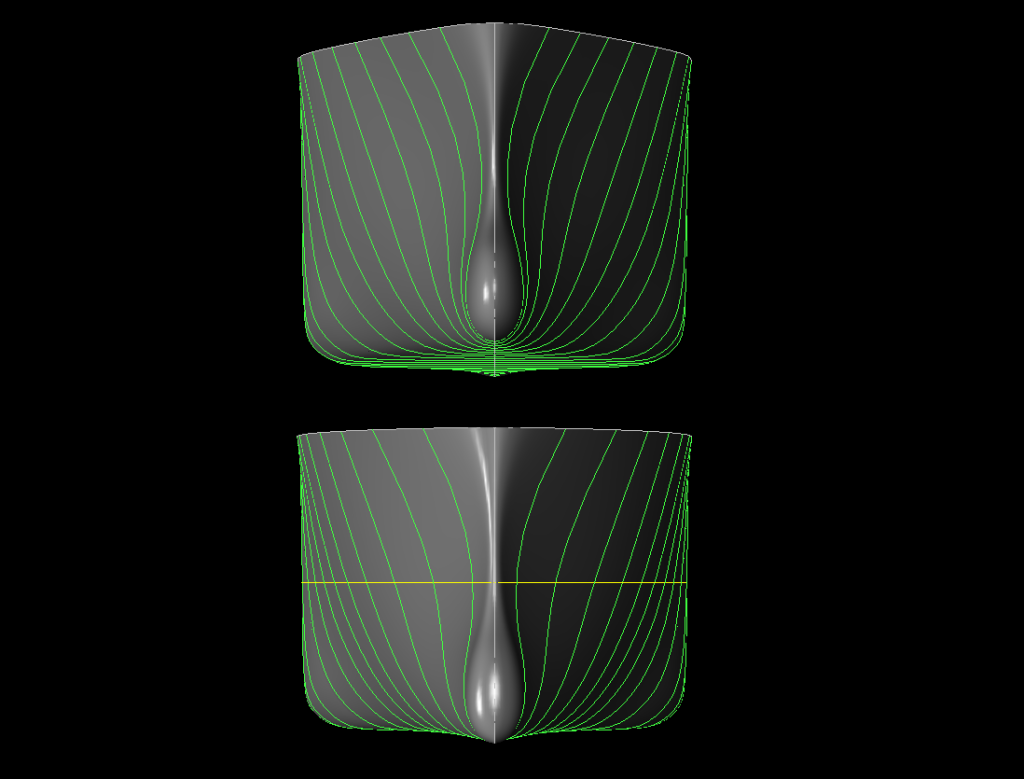 With a typical change to the parametric hull model, for example, revised hydrostatic/stability analyses, floodable length calculations, hull structure part definitions and weight estimates for design trade-off variations are completed in minutes instead of days as downstream details of the design and analyses get updated.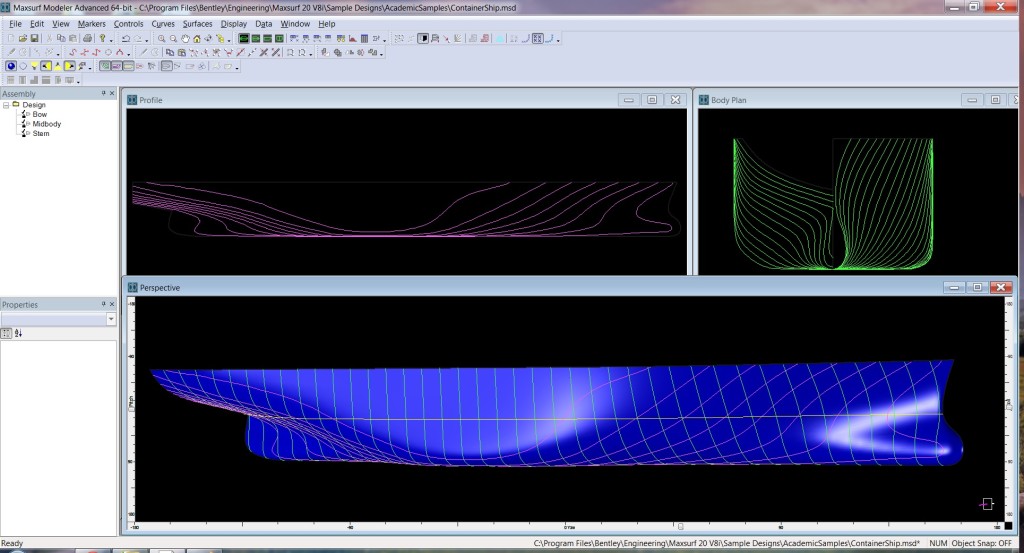 With MAXSURF, many more variations of a particular vessel design can be thoroughly evaluated in a fraction of the time, as compared to other approaches, such as using a combination of CAD tools, Hydrostatic Programs, FEA tools, and of course, the inevitable Excel Spreadsheet.
The pull-down menu system and intuitive user interface is tailored to Naval Architects, without the need to remember command lines.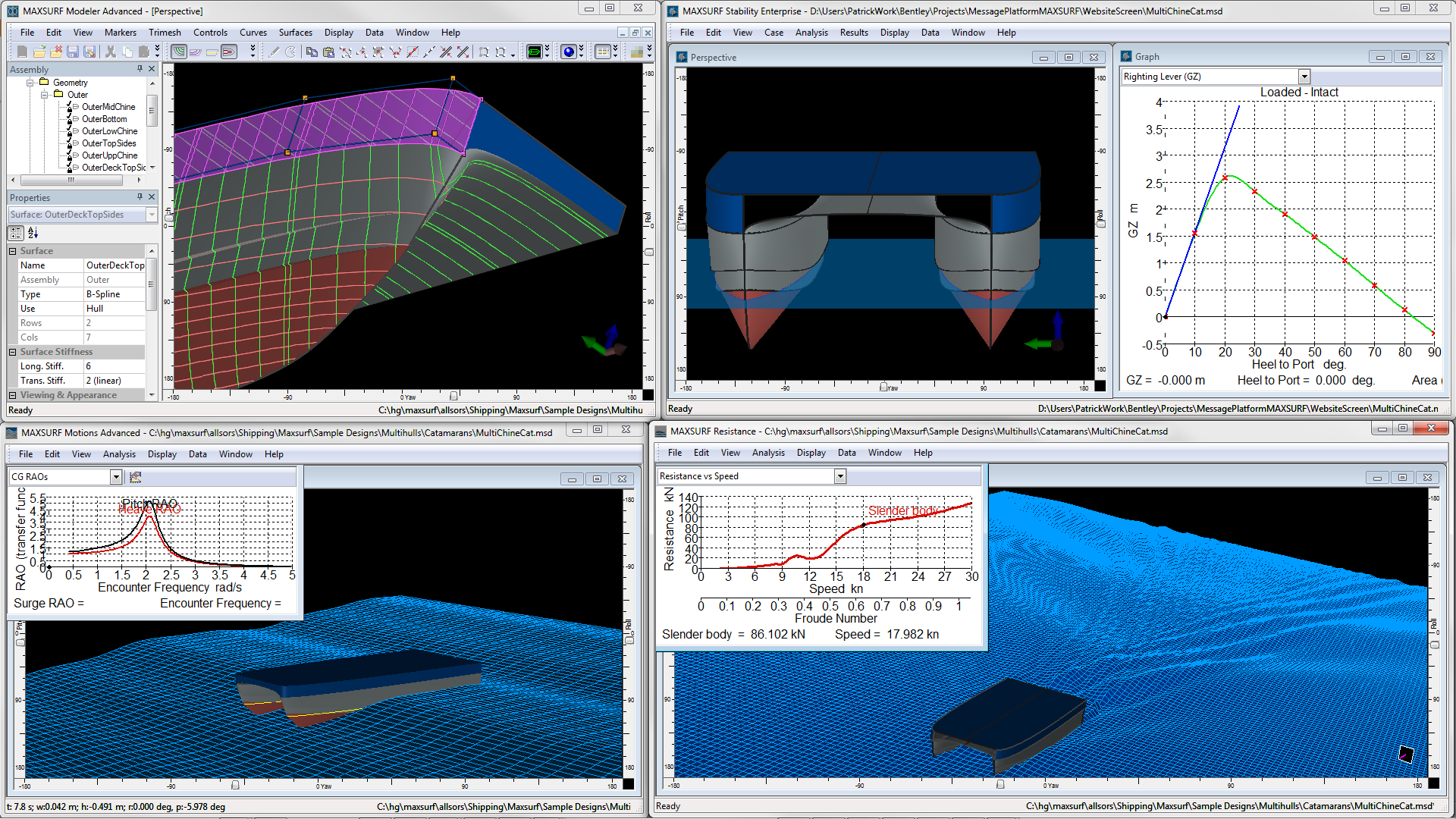 Looking at the photo below of the two 140′ Trawlers designed in Maxsurf:  Which one is more fuel efficient?  Which one has better seakeeping characteristics?  Which one has a longer roll decay time?  With the MAXSURF Advanced Suite, all of these questions and much more can be answered in minutes.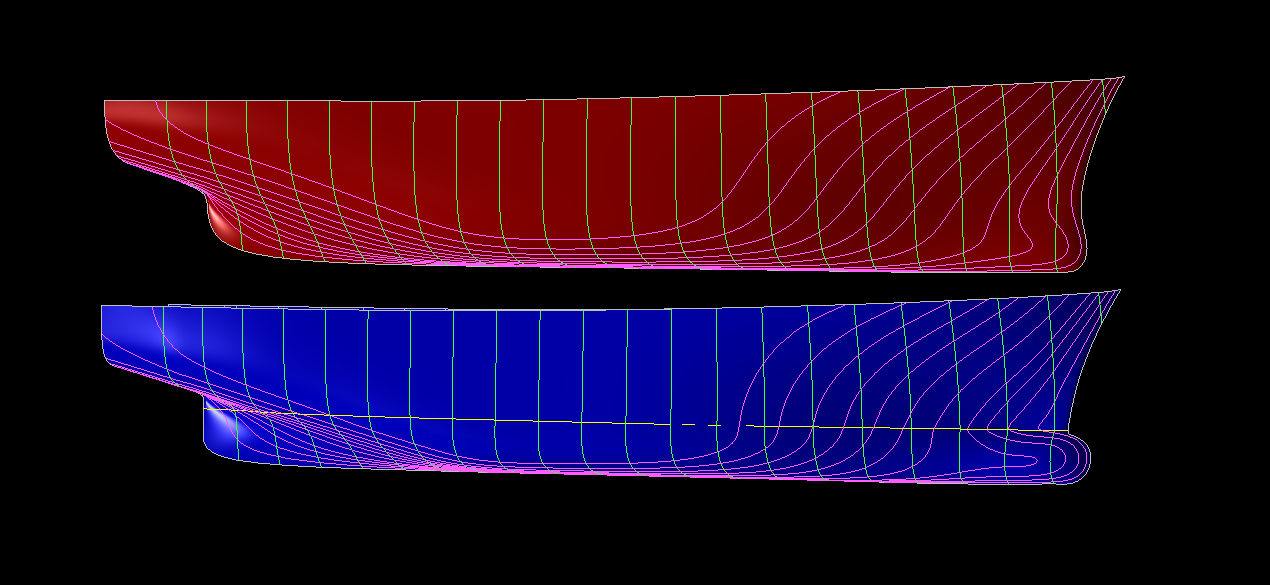 ---
Common Questions:
Our Design Group already has a number of software tools, why should we consider MAXSURF?
What if the Naval Architect makes a change to the hull after all of the structure is defined?
What if a number of trade-off studies need to be performed in order to optimize the design?
Bring on the changes…  This is where using MAXSURF excels when compared to the way many design offices currently work in the Preliminary Design Stage using several different software tools accumulated over a long period of time.  A typical example of standard "tools of the trade" include Autocad for drawings, Rhino for 3D Modeling, GHS for Hydrostatics/Stability/Longitudinal Strength calculations, and possibly ShipConstructor for final production work packages and 3D structural part detailing.  With so many different tools heavily utilized during the design process, design changes, optimization, and in-depth trade-off studies can become difficult, time consuming, and costly.   Each software platform has its own learning curve to deal with for the user as well.  Quite often, a different "guru" in the design office is called upon because of their familiarity with one particular tool.  For example, GHS is a popular, widely used, and trusted program that operates using a command line driven programming language requiring the user to work more like a computer programmer than a Naval Architect to get results.
MAXSURF was created specifically for Naval Architects with a common interface that is graphically intuitive, gives feedback in real time, and user friendly.  With Maxsurf, many more important steps of the Design Spiral are performed using only One Software Platform in the same Naval Architect-friendly user interface environment.  
With MAXSURF, the Naval Architect is better equipped with one software environment to perform much more of the design/analysis work in much less time – at the most critical early stage of the design cycle – when the Cost of Change is lowest.  
Why MAXSURF?   For a typical complex vessel (especially one which utilizes dynamically trimmed surfaces), during the preliminary design phase, several variations of a vessel can be evaluated by one Naval Architect using Maxsurf in the same amount of time that it would take to evaluate only one vessel using the alternative combination of other software tools for the same list of results (variations of hull models, weights/centers, stability, longitudinal strength, primary structure definition, tank arrangements, vessel resistance, and motions prediction).  The final result for your customer is a better engineered vessel.
Is MAXSURF Structure similar to using ShipConstructor, what's the difference?
MAXSURF Structure and ShipConstructor compliment each other quite well.  Typically, tools like ShipConstructor are not used until late in the design cycle when part level detailing and production drawing work packages are prepared for structure, piping, electrical, and other components.  The founders of MAXSURF (Formsys) were once the largest reseller of of ShipConstructor in Australia, and they (along with shipbuilders like Austal and IHI) recognized the tremendous benefits of design optimization while defining primary hull structure (plating, frames, bulkheads, and stiffeners) earlier in the design cycle with better accuracy if it could also be exported into tools like Ship Constructor to shorten the time required to perform structural detailing.  
Early in the design cycle, MAXSURF Structure enables the Naval Architect to have a closer understanding of key elements of the hull structure and how they affect weight, stability, vessel performance, hull construction (placement of butt welds, plate expansion, plate double curvature, structural shape alternatives, framing details).
Many shipyards first use MAXSURF to complete the key hull modeling, stability analysis, and primary structure definition before proceeding to the detailing phase of using ShipConstructor or similar tools.  With this in mind, MAXSURF easily exports hull structure parts data into ShipConstructor and similar tools via several types of file formats.
---
MAXSURF is available as two different product suites, depending on your needs and budget:
MAXSURF Advanced
MAXSURF Ultimate (formerly MAXSURF Enterprise)
*Note:  The entry level "MAXSURF" is no longer offered.
---
View Overview Presentations of MAXSURF in Action:
by Mr. Phil Christensen, VP Offshore & Marine, Bentley Systems:
MAXSURF Structure & Multiframe
View Detailed Training Webinars of MAXSURF Modules:
---